Arrowquip Q-Catch mobile cattle crushes
Cattle crushes increase the economic viability of your farm. Precise dosages of products minimizes waste, more efficient equipment saves time, fewer handlers are needed to perform procedures, and safety for cattle and handlers increases, reducing medical or veterinary bills.
Before you use your cattle crush, you should conduct a safety assessment, and walk through to make sure that nothing is broken, or will injure or distract cattle. Reducing stress in cattle handling situations can save time when cattle must be handled again in the future. Cattle with bad experiences in a yoke gate or race will be harder to catch the next time a procedure is needed.
Cattle crushes designed by Arrowquip are functional and economical. We continue to seek innovative design and engineering that adheres to the latest research from top animal science experts worldwide, including eliminating noise in our cattle crushes and taking the manual work out of the manual squeeze crush.
A proper cattle crush is quickly added to your list of essential equipment by increasing livestock and handler safety, and preventing injury or death.
Ready to upgrade your operation with a new cattle crush for enhanced efficiency and ease of use? Check out our extensive lineup of manual or hydraulic cattle crushes to find the perfect fit for your needs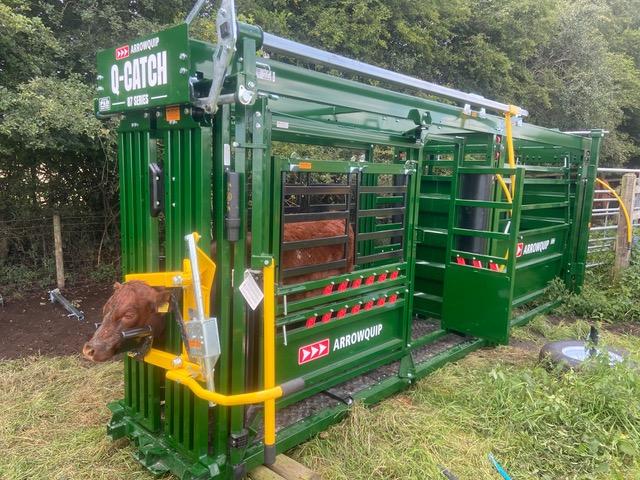 Click photo above for video
Another Arrowquip Q87 mobile cattle handling system prepared and ready to be delivered to our customer. Arrowquip is the strongest and safest system for cattle handling plus silent operation is much less stressful on cattle. Key features:
Perfect for moving from one area to another
Quick and easy to use
Scale platform compatible
New easy flow adjustable race panels
Two top-mountedrolling race gates
New hydraulic crush upgrade available (1078)
With the stock currently available, there really is no better time to call and discuss your requirements on both fixed or mobile options.
Give us a call for more details.